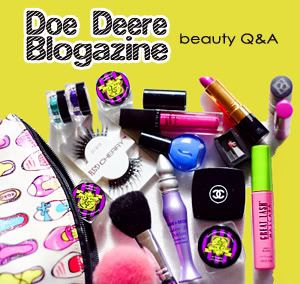 My tutorials are usually geared towards the more skilled makeup aficionados – as a result, we have quite a few makeup experts hanging around here (you know who you are!). But what if you're new at makeup, looking to get into it, or just want to learn the basics? Do you have a question that's been tormenting you for ages, something you've scanned the internet up & down for, and found no answer? Is it something too advanced or perhaps too basic? Something you're too embarrassed to ask?
Doe Deere Blogazine is a no-judgment blog. Anything goes here, and whatever it is you want to ask is cool by us. No question is too elementary or too stupid.
You ask the question

I – or anybody else willing – answers it in the comments.
That's all! Before you know it, we'll have a sweet database of makeup advice available for anyone to use! Please note that this is mostly for beauty basics, however if you have an expert-level question, feel free to post it too – I'm sure we'll be able to help you out.