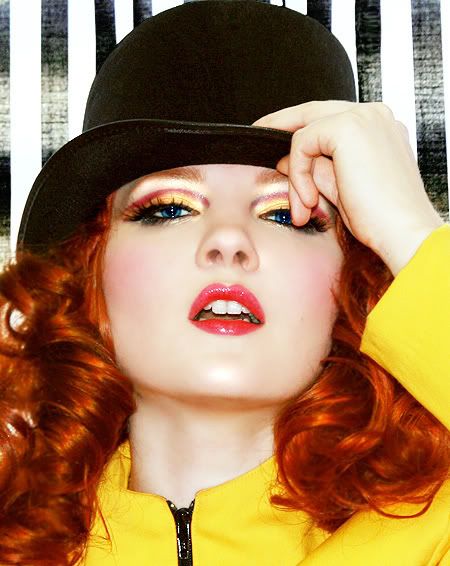 Photo: N.I.K. Photography
I have to let you in on a secret: in the past couple tutorials, I've been testing out my own brand of make-up. :) The truth is, that after years of searching for the perfect eyeshadow and having found none that lived up to my standards, I've decided to create my own line. I spent several months looking into factories that would let me create the brightest, most vivid eyeshadow possible, so the product can live up to its name: Lime Crime Makeup!
I'm still working out the kinks, but the line should be available for sale in under 2 months. Get ready for my highly-pigmented, long-lasting, exceptionally blendable eye shadows – at an affordable price!


INGREDIENTS
Eyes
This make-up really brings out the eyes and the mouth, which is why it's great for stage performers! Apply eyeshadow base onto your eyelids. Draw a line over the natural crease with Prima Donna (a dark raspberry-pink). Using a medium brush, fill in the top lid with bright Circus Girl yellow eyeshadow, blending outwards and well into the red. Dab a thin brush into Fortune Teller (violet) and define the inner corners, blending into the red. Correct with q-tips. Use the highlighter eyeshadow to define inner corners, under the eye and under the brow.
Use black liquid liner to draw a line as close to the lashes as possible, extending outwards. I made my own lashes here by combining one full pair with a piece of the much longer pair. You can glue the pieces together using a regular eyelash glue or apply part by part onto the eyes. (When taking them off, they'll probably stick together so you can easily reuse!)
I kept my eyebrows natural in color, but extended them a bit towards the temples, to match the eyes.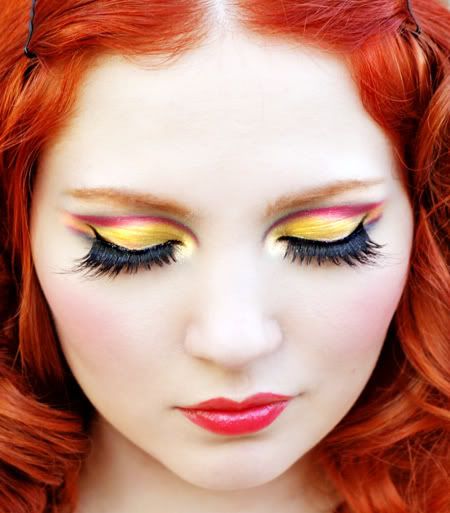 Face
Using a sponge, apply foundation generously all over the face. No translucency here! Use concealer under the eyes and around the nose and mouth for a flawless complexion.
Confused about blush application? Nothing that a smile couldn't fix! The best way to determine where the apples of your cheeks are is to smile – the part that protrudes the most is where most of your color will be. To find out where your cheekbones are, suck in your cheeks and make a fish face. Applying a darker blush or bronzer under your cheek will bring out your cheekbones.
Use a large, slanted brush to apply hot pink blush. Blend the color away from the nose and towards the temples. Remove excess blush with a large cotton ball. Set the face with translucent powder.
Lips
Once again I mixed my own color here, using my own line. For now, you can use any coral-colored lipstick and top it off with sparkly orange-tinted lip gloss. Voila!