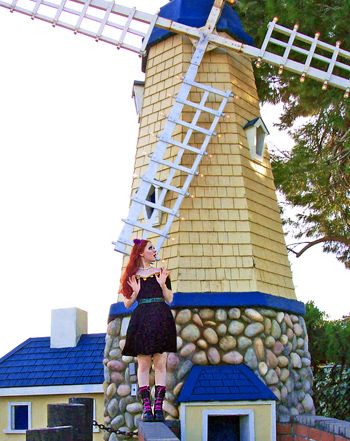 Miniature golf course in Sacramento, CA
Yeah, but what about the rest of the questions? The ones that didn't fit into any of the categories? You know I couldn't leave you hanging!!
What is your favorite fairy tale? -A. Gray Lamb
Harry Potter, hands down! Huge potterhead here. :) I own all 7 books + the extensions (Quidditch Through The Ages, Magical Beasts & Where To Find Them) and all the movies on DVD, respectively. When I was on the last few pages of Book 7, I felt like I was saying goodbye to a very special part of my life. I went through a lot of personal changes and grew tremendously, all while reading these books. I can't wait to introduce my own kids to the magical world of J.K. Rowling one day.
I have also loved, since I was a little girl, Snow Queen by Hans Christian Andersen. I remember my mother reading it to me before bed and just being mesmerized…
You're home alone one evening. What movie do you put on to entertain yourself? What snack or meal do you make for yourself? -Jami Lee Rosa
I like beautiful, magical movies that are slightly on the dark side – like Pan's Labyrinth or Perfume: The Story of a Murderer. However, since I'm home alone, my choice will be something like Blades of Glory or Zoolander. I love ridiculous comedies with a fashion twist!
My favorite movie night munchy is green tea ice cream. I get it at this Chinese supermarket called – naturally – The Great Wall.
What would you say your biggest accomplishment is? The thing you're most proud of? -Lyndsey
Probably my personal evolution as a human being. Sometimes I look back and think, "Wow, I can't believe that was me." I used to be kind of awkward, angsty, unsatisfied with my life… Until one day I decided that I won't be that way any more. I am proud of the person I am today – thoughtful, compassionate, focused, in control of my emotions.  My second proudest moment is launching Lime Crime. :)
What are some unglamorous moments you've had? Any jobs that weren't so great? Like I work in the food industry (Chipotle, which isn't so bad since I've been there and eating their food for a year haha) but food isn't always pretty and doesn't feel "glamorous". -Sunny
Oh, sure! My less-than-unglamorous occupations were: cleaning apartments (where do you think my love for baking soda comes from?!), cat-sitting, dog-walking. I also had a brief stint as a go-go dancer but didn't like it. Starbucks rejected my application and I've boycotted them ever since (actually, I'm just not a coffee-drinker). Other embarrassing moments include running up the down-going escalator in a fit of age & falling at the top, as well as attempting to walk through a glass door. Haha. Ouchie.
How much time do you spend on the website? -Eyeliah

I'm on the blog all the time. Writing articles, reading comments, responding to comments if I have a minute… I usually write in the morning and have a new post out by afternoon. It's safe to say that Doe Deere Blogazine is my favorite site on the web! ;)