FACE Stockholm is a Swedish makeup brand who sent me some stuff to try. Here's a look I did using their products:
Eye Fix, $28 – this is a creme eyelid primer that comes in a pot. Spreads nicely across the lids. Keep in mind that it's a lighter primer – looks almost white against my skin – but it does make all your colors pop. I didn't get a chance to test its durability yet.
Eye Dust in Vintage, $22 – nice mossy green with medium-sheen. As you know, I love loose shadows because they have the best impact – and yes, it matters even with subdued colors! All loose shadows require a primer to make them stick better.
Volumizing Mascara, $24 – 'thickens, lengthens and fortifies lashes', according to the website. It did an excellent job of lengthening mine, but didn't give much volume in my opinion. Perhaps a couple additional coats would solve that problem!
Galaxy Glitter in Tjugofem, $18 – easily my favorite from the haul! Bright lime color (yum!), super glittery particles catch the light like whoa! How to apply: dab a tinge of lotion using a q-tip; go over the surface with a brush loaded with glitter.
Precision Eyeliner, $36 – if you have trouble applying eyeliner, this one's for you. Its felt tip is really easy to manipulate so you can create a precise, fine line. Doesn't run or smudge and has excellent staying power (you'll need an oil-based solution to remove). I do wish it was a tad darker (I like my liner dramatic!) but I managed to achieve this by simply going over a few times.
Creme Highlighter in Mystic, $25 – Silvery white creme for illuminating cheekbones, decollete, shoulders. I applied this with a finger over my brow bone and it gave me a brow-lift type effect. The website claims it can be used as eyeshadow base, too!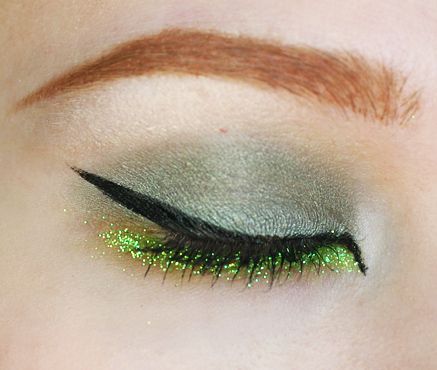 FACE Stockholm has a nice range of colors and their product was a pleasure to review. Hope you enjoyed! :)