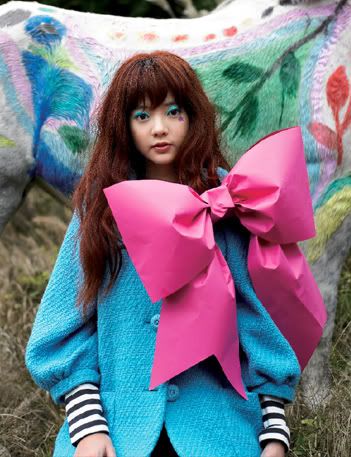 Img: Vogue Girl Korea
Can't find anything you like in stores this fall? Story of my life! If you like color, cold weather can put a damper on your style. It's especially frustrating now that the recession is forcing store buyers to be ultra-conservative, resulting in less than exciting stock on the shelves. Walking into a store, I almost feel like even if I did have money to spend, everything looks so predictable & safe that I just don't feel like buying anything!
It always pays to think outside the box to look good, but this fall it's a necessity. Read on to find out how to keep you GLEE on this fall – regardless of the meteorological or economic climate.
Spring palette, fall palette

Does it really matter? Seasonal colors are arbitrary anyway and designed to distinguish fall stock from spring. Who says you can't wear turquoise, pink & yellows in November?! I'm tired of seeing dark green and burgundy everywhere, so this fall I'm wearing brights! Not playing by the rules will help you save money too: buy stuff on end-of-season sale and keep it in your closet until it gets cold again!

Coat from ModCloth.com, $79.99
Go retro
Retro is never out of style and the best part, it allows you to make a statement on the cheap. I love vintage and thrift-shopping for the thrill: everything is one-of-a-kind and you never know what you'll find!
Tip: to get all the best sartorial gems, find out when your local thrift store gets new shipments in and swoop in the next day!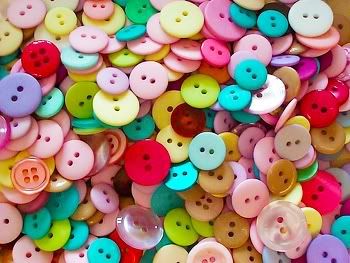 Img via Flickr
Get crafty

Now is the time to go all-out DIY. Customization is a cheap and fun way to spruce up a boring piece. Things as simple as changing buttons & adjusting length can transform a less-than-spectacular article of clothing into something you love. If you're not afraid of experimenting, you can even custom-dye your own clothes. Remember that boring white top? Pick up some dye from the craft store and say hello to turquoise (or pink! or yellow!)!
Tip: this girl shows you how to customize your tights with beads to replicate a runway look. Love it!

Lime green Doc Martens
Accessorize
Whether it's contrast tights, belt or a pair of boots, don't be afraid to add a splash of color to your outfit with a statement accessory. Amongst rows and rows of boring shoes, I randomly came across these got lime-green patent Doc Martens – I can't wait to rock them with bright pink tights!
Brighten up your face… & your day!

Makeup is one of the most affordable ways to liven up even the dullest outfit. A touch of bright lipstick or eyeshadow will lift up not only your mood, but put a smile on the face of a stranger, too – tested and confirmed! :D Fuchsias, turquoises and purples look especially good against those autumn skies.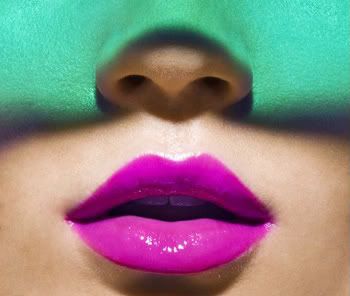 Deerlings: Do you feel your style slipping during the colder months? How do you keep the GLEE alive?