The makeup I wore for this photoshoot, as requested!

Photography: Debbi R
Everybody loves a dramatic cat eye – but what about one done up in glitter? Read on to learn how to apply loose glitter in a shape you want & with minimal mess!


INGREDIENTS
Eyeshadows: Pompadour, Crystal Ball, Treasure Chest, blue glitter, any black creme eyeshadow
Eyes: eyeshadow primer, mascara, blue pencil liner
Face: Foundation Primer, concealer, foundation, blush, Pixie Dust
Eyes
Curl lashes. Apply 3 layers of black mascara to top & bottom, let dry. Curl again. Dab on Foundation Primer onto the lids and sweep Pompadour all over the lid with a larger brush. Don't pack too much on, just a wash of color. Apply Crystal Ball on brow bone, blending well into Pompadour.
Loose glitters give you the best sparkle, but the trick is to get them to adhere. (If you're afraid of getting glitter in your eye,  stick on some fake lashes prior to proceeding to the next step). I prefer creme eyeshadows like MAC paint pots for their sticky surfaces. Apply the shadow to the top lid, extending up and outward (the cat eye shape). Use a thin brush to make an outline, and a bigger on to fill in. While the surface is still wet, pick up some blue glitter with a slightly damped brush and press it against the lid. Glitter particles should transfer to the eyeshadow and stay in place. Repeat the step to cover the entire area.
Did you know?

Glitter particles can be easily cleaned up with Scotch tape. Got glitter where you don't want it? Want a more precise shape? A piece of tape will pick it right up, without ruining the rest of your makeup.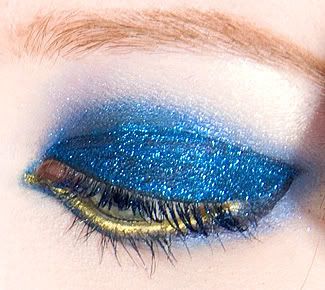 My favorite part about this look is the waterline – instead of the traditional black or gray, I decided to go for bright gold! Pick up some Treasure Chest with a small amount with a short-bristled brush and paint over the waterline. Line lower lid with a dark blue pencil right under the lashes. For a more cat-like expression, drop the inner corner just a bit.
Face
Clean up the loose glitter particles with a baby wipe. Moisturize skin, apply Foundation Primer and then foundation. Concealer for dark spots and under the eyes. Fill in eyebrows. Apply your favorite blush on the apples of cheeks. Finish off with Pixie Dust.
Lips
I changed lipstick 3 times during the shoot, so I don't remember the exact product I used. By the look of things, it's some sort of a berry gloss and nude lipliner – nothing too fancy. Voila!