This week's tutorial is a guest look by Silja: a photographer, makeup aficionado & blogger from Germany!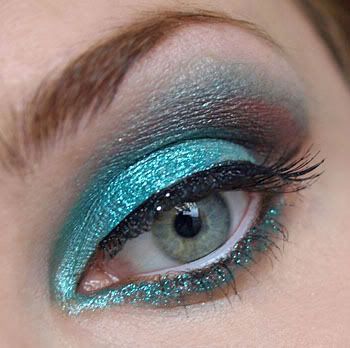 INGREDIENTS
Other: black shadow and liner, black + white kohl, mascara, false lashes
Eyes
Prep your lids with the primer of your choice. My favourite primer is MAC Paintpot in Bare Study, but you an use whatever works best for you. To define the shape the shadow should have, line both eyes with a black felt-tip (or liquid) liner and wing it out slightly at the outer corners.
The next step is to define the crease starting at the outer corners with a matte black shadow and drawing a bow up, a little further than where the center of your lid is located. This provides the base over which Dragon Scales will be applied, to neutralize the reddish brown undertones which don't suit cool-toned gals like me that much! The crease bow should be limited by the liner you have drawn on before, to create a clear-cut line. Now, apply Mermaid shadow all over your lid (for this step, I prefer a brush with short, soft but dense bristles) up to the crease bow, and apply Dragon Scales on top of the black shadow. Take a brush with a small head to apply some more Mermaid above the crease and blend everything together carefully with a blending brush (I prefer MAC #224). Now I recommend going over with the eyeliner once more to make the line more defined.
To apply Jinx glitter, use a sticky base (like MAC Mixing Medium Eyeliner, not the regular water-based one!) and apply above the liner to the lower part of the lid, then pat on the glitter carefully. A brush with synthetic bristles works best for this! Repeat on the lower lid and add some black kohl below the lower lashes as well as some white kohl to the waterline if desired. Apply your favourite mascara. If you want, you can also glue on some falsies.
Face/Lips
I used MAC Studio Fix Fluid foundation in NC15 (my absolute fave as far as foundations are concerned. Someone called it "porcelain doll in a bottle" – perfect description of it!), MAC Studio Finish concealer in NC15 as well, topped with Pure Luxe April's Mix finishing powder (with slight sparkle).
For the blush, I used Flirt "All dolled up" with MAC Lucent as cheek highlighter. The lipcolours is MAC Pleasureseeker with Astor gloss in "Sunset Gold" on top.
Your final result: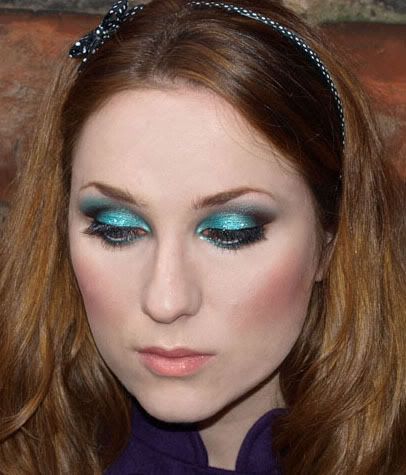 Check out more fantastic looks in Silja's blog!