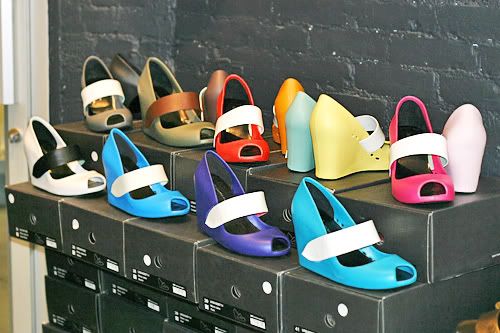 United Nude: a rainbow of Mono Janes
If you read my previous posts, you know that I'm a huge fan of United Nude shoes. Just one look at the picture above and you'll see why: this company makes shoes that are the very vision of Candyfuture, utilizing unusual materials such as EVA (foam-like vegan substance) and employing innovative designs!
Last week I decided it was time for a new pair so I headed down to their store on Elizabeth Street in Manhattan.

Window display. Amazing.
Several pairs caught my eye. Eamz Pump is  a shoe with a weird futuristic heel that miraculously feels and wears like a regular heel.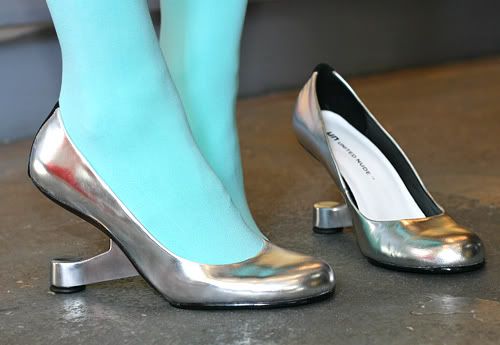 These fit comfortably and are very walkable but I was unsure of the color – perhaps a bit too traditionally futuristic? When debating a purchase, I always look for a twist, and then I saw these in gold…

Ahh, love at first sight!
After my trip to Russia and seeing all that beautiful gold-leaf architecture, I've been madly in love with the yellow devil. Gold accents are popping up everywhere in my life, from clothing, to my apartment, to my makeup!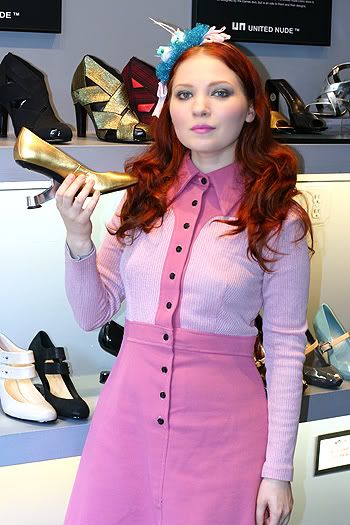 And so my fate was decided. I especially loved how the gold looked against my turquoise We Love Colors opaque tights!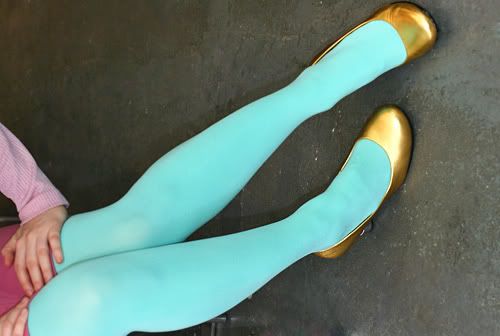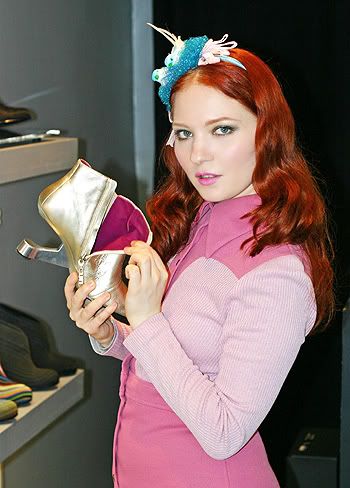 Omg, these come as booties too?! I think I'm in heaven.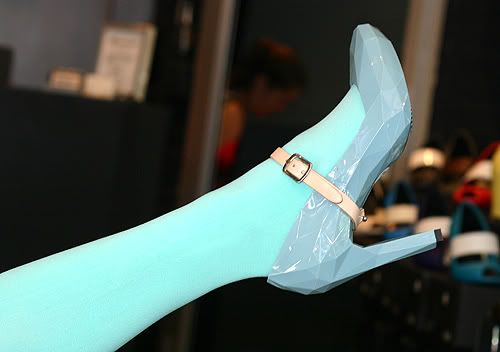 My future wife: Lo Res mary jane! Isn't it amaaaazing???
My shoe collection is a harem: all wives are adored & loved equally, but I'm always on the look-out for more, haha. This time I have my eye on this crystal-y, plastic-y work of art. I'm still saving up for them but they shall be mine!!
Update: United Nude just emailed me and offered a 20% discount to all readers of Doe Deere Blogazine! Input "doedeere" at checkout at www.unitednude.com to get 20% off on your purchase. Or, if you come into the store on 268 Elizabeth Street in NYC, just mention my name and you'll will get a similar discount on retail prices!  (15% on anything that's already been reduced.) Yay!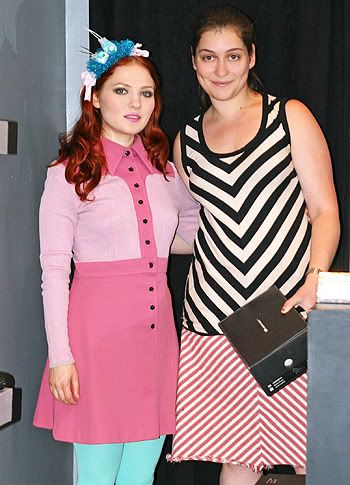 The sales girl was super-friendly & helpful. Sorry, I forgot your name –  comment if you see this?
By the way, this amazing headband was custom-made by my lovely Southern friend & designer, Megan Maude.