Makeup from my Leaves & Umbrellas shoot. Although, come to think of it, it's very Christmassy, too! :D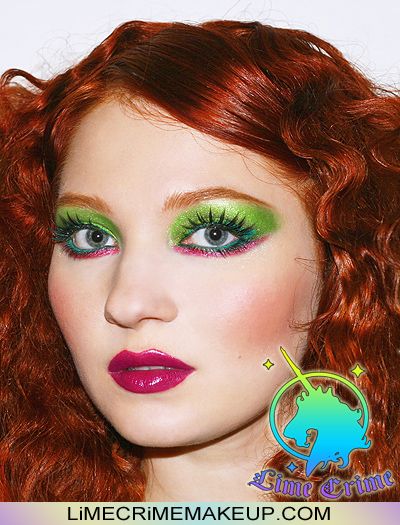 Limerick
A colorful girl from the city
Who wished to be ever so pretty
Wore her makeup so bright,
Lock her up you just might,
That colorful girl from the city!


INGREDIENTS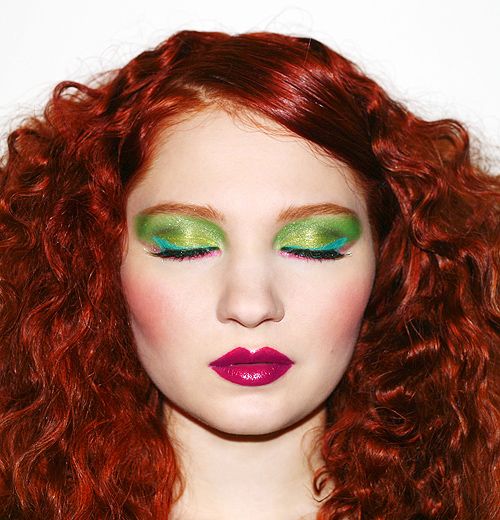 Eyes
This tutorial features one of my favorite eyeshadows: Lime Criminal! It's a bright lime color, very shimmery and GLEE-inducing! :D
Apply primer (like Eyeshadow Insurance by Too Faced or one by Urban Decay) for crease-less, long-lasting results. With a medium brush, apply Amazon (yellow-green, similar to MAC Bitter) starting at the inner corner and to about the center of the eye, as well as on the brow bone. With a larger brush, sweep Lime Criminal all over the eye, blending into Amazon. Accentuate outer corners by packing in some Princess Caraboo (dark, sparkly green) and going slightly into the crease. Now wet a thin brush (like #6) and apply Prima Donna (hot pink) under the lower lashes, pulling the color outwards.
I made my own turquoise eyeliner (but wasn't impressed with it enough to add to my line). I'm not sure if any other brands make one like that? Anyway, if you have a turquoise pencil, it will do. Line alongside top lashes and on the waterline. Apply mascara as usual; fill in eyebrows; stick on some falsies.
Face
Moisturize. I used the LC Foundation Primer in Twinkle-Twinkle to give my skin just a bit of magical sparkle. It's rather subtle – you can see it on the cheek in the first picture. Apply foundation and concealer as usual. Sweep Finishing Pixie Dust over the bridge of the nose, under eye area and right on top of the cheek bone. Also, dab some on on cupid's bow with your finger for fuller lips. Apply tan-orange brush or bronzer as usual, blending out in circular motion.
Lips
I mixed my own lip color here (out of a deep red and brown lipsticks) but I'm sure there are lots of berry-colors lipsticks available. Outline with a pencil, fill in the color, blot, fill in again, blot. Berry gloss on top. Voila!