Who else loves the 80s? I adore all the teased hair, the bright makeup, the purple lipstick! Even the shoulder pads I dig on occasion. ;) Halloween is the perfect time to bust out your Rubik's cube and share your 80s obsession with your friends. Here's how you can look like you'd just stepped off of the catwalk in 1985!


INGREDIENTS
Eyeshadows: Lime Criminal, Empress, Circus Girl

Black mascara, purple liquid liner, false eyelashes
Face: foundation, bronzer, blush

Lips: purple lipstick, Fairy Wings powder
Teased hair, lurex scarf, big ear-rings: optional, but highly advisable! :)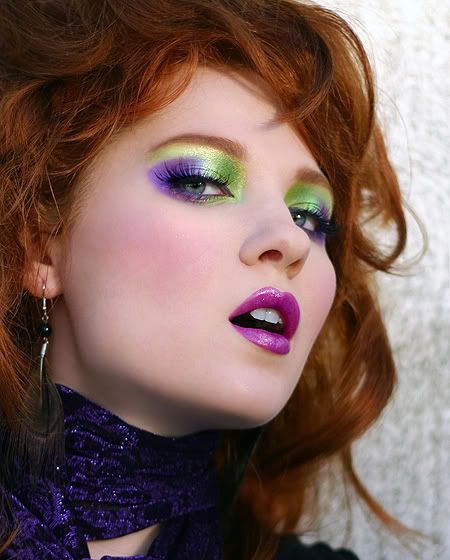 Face
Moisturize face. Apply foundation and concealer where needed. Apply blush onto the apples of your cheeks; bronzer under the cheek bones and temples. Contouring (which is what bronzer does) was very popular in the 80s, so go nuts with it!
When you're done, set face with finishing powder. Now your  makeup is ready to withstand a night long of dancing!
Eyes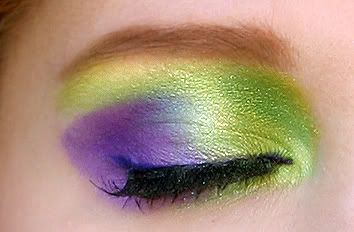 When using eye dusts, you want the surface to be a little sticky. Apply primer over the lids. Amazon (yellow-green) is applied all over the eye with a rounder brush, except for the outer corners – that's where the purple will go. Apply Empress purple on outer corners and a little under the eye. I used Lime Criminal, a bright lime color, to deepen the inner corner right under the brow and to blend all colors together. Add a touch of Circus Girl onto the center of eyeball.
Personally, I think this look works with or without the fake lashes. If you don't feel like bothering with them, I suggest adding a little *oomph* with purple eyeliner – on top lid as well as the waterline.
Eyebrows
Looking at the tutorial, I wish I had done bushier eyebrows. After all, they are an 80s staple! But don't fret: I'll tell you exactly how to do it. Fill in your brows as usual, darker shades preferred. Now sharpen your pencil and with short, quick strokes draw little 'hairs' outside your natural brow – just on top. It takes a bit of practice the the result is pretty amazing! Correct mistakes with foundation on a sponge.
Lips
Ohhh yes. Purple lipstick! If you have some that's already frosted – use it! But my lips aren't that big naturally, so I plumped them up with Fairy Wings magic dust, dabbing just a little bit on the center of lower lip. Now I've got a perfect pout! *Muah!*