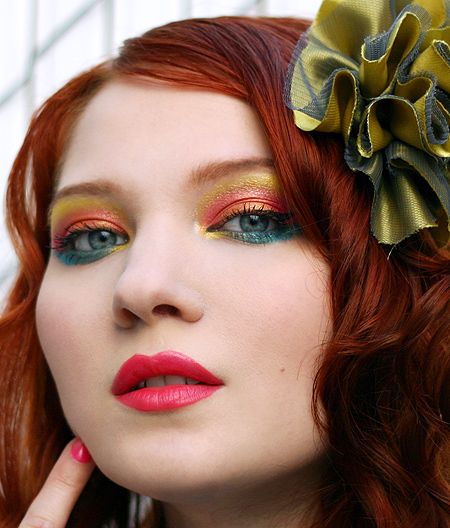 The spring is finally here – officially and irrevocably! The time of cute coats, colorful berets, bright stockings – and of course vivid spring makeup. This look was inspired by the yellow & orange flowers that popped up on my lawn. :)


INGREDIENTS
Eyes
Lime Crime magic dusts play so well with each other that you can create totally new shades just by mixing existing colors. In this look, I created a vibrant orange by layering yellow (Circus Girl) over hot pink (Prima Donna). Start out by curling lashes and apply mascara to top & bottom. Prep the lids with Foundation Primer and sweep Circus Girl across the lid up to the eyebrows. With a medium brush, apply Prima Donna from lashes and into the crease. Blend out in circular motion. With a smaller brush, paint on Duchess, extending outwards. Apply winged black eyeliner (optional). Add a touch of Circus Girl on inner corners with a thin brush. Fill waterline with a turquoise pencil.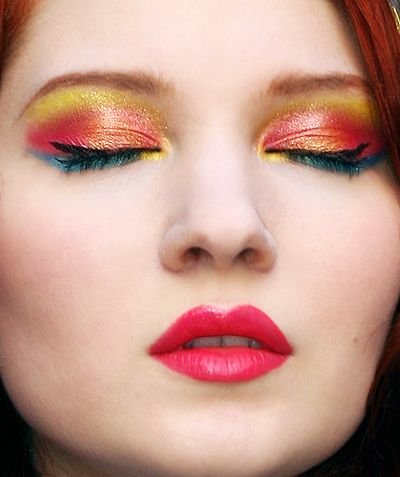 Face
Moisturize skin, apply Foundation Primer and foundation. Concealer for dark spots and under the eyes. Liven up the face with orange-peach blush, finish off with Pixie Dust. Fill in eyebrows as usual.
Lips
Did you know?

Most Lime Crime magic dusts are multi-purpose, and can be used on eyes or lips. To create your own unique lipcolor, mix the pigment into clear gloss or layer over your favorite lipstick.
I started out with a lipstick that was already pretty hot pink and amped it up by throwing some Prima Donna magic dust in the mix. Paint your lips as usual and add the pigment with a small lip brush. Add as much as you like, until you achieve desired results.  Voila!