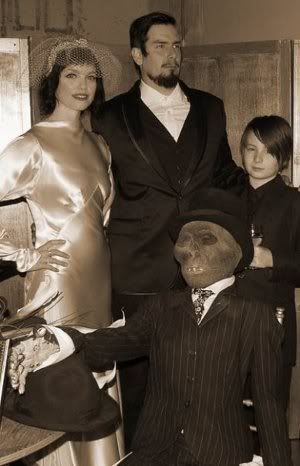 Jayme, Voltaire, Mars, and their "olde friend"
Every time Voltaire calls, I feel like he's is about to make an indecent proposition. This time was no exception – in a very husky voice, he asked for our address… and then invited us to his wedding. His throat may have been sore from Dragon*Con, but nothing could stop this man from marrying Jayme!
The ceremony and reception were held in – what else? – a gothic-style former synagogue on Lower East Side. Candle chandeliers and old-time jazz band created a dark, romantic atmosphere similar to Dances of Vice parties (in fact, Voltaire proposed to Jayme at NYE Dances of Vice party last winter; they kept the theme even hired the same band that played that night).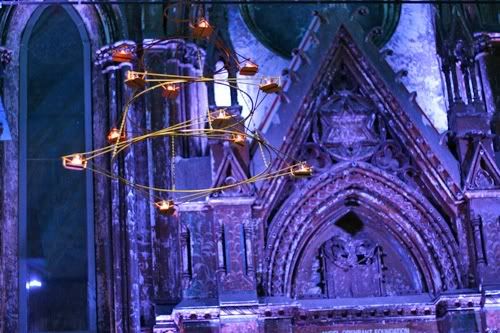 I am happy to report that there was nothing traditional or 'normal' about this wedding. Guests were covered in tattoos & piercings, there were no stuffy toasts or speeches, and a tuxedo'd corpse was presiding at the end of table! I was quite surprised to find Jayme wearing white (I was half-expecting to see the bride in black).

The corpse is from Voltaire's Happy Birthday (My Olde Friend) video

The beautiful Shien Lee of Dances of Vice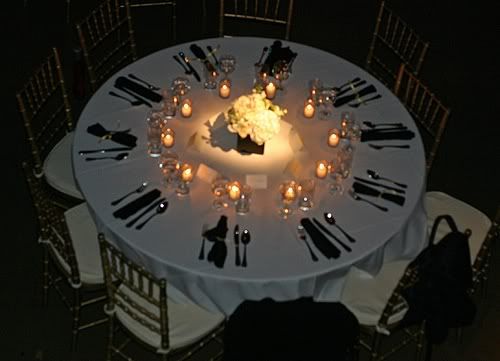 White roses & black napkins
In spite of being a huge fan of Goth culture, I've been pretty out of touch with the scene. I was agonizing over what to wear for weeks, eventually settling on a black lace dress, a fascinator and glossy black lips (Styletto was a huge hit!).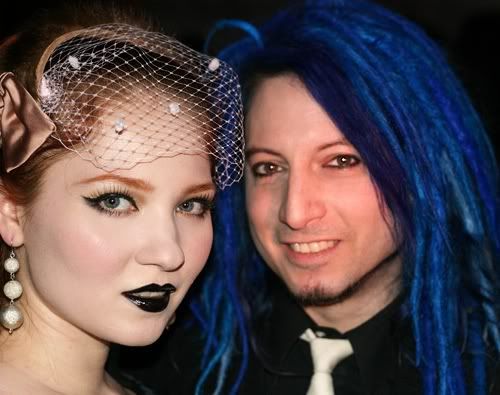 I ran into many old friends. This is Xris Flam, we worked together on my solo record.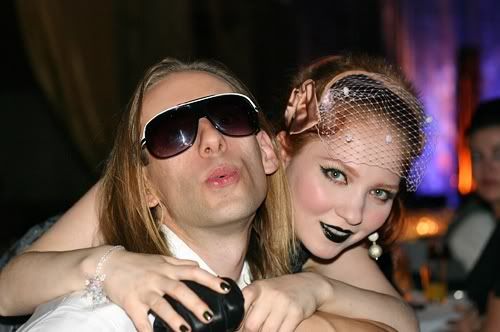 Mark doing his best Ricky Rocket expression

Voltaire & his son Mars
When it comes to Goths, overcomplexity is almost expected – we want everything to be not-like-everyone-else's and as a result spend a lot of time over-planning & stressing out over every single detail. Voltaire & Jayme managed to pull off "different" by doing the very opposite – keeping things simple & relaxed. It was the most laid back wedding I've ever been to, with just enough structure to keep the guests engaged and enough leeway to lay back, dance and have a good time. May their life together be the same way!
P.S. Outfit post coming up!