Last week we asked Futurettes, the members of Team Candyfuture, to share their stories how Lime Crime impacted their lives in a positive way. Erica picked her favorites featured them in Monthly Glee, our exclusive newsletter.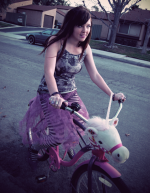 Ariel Grimm
Once upon a time, I discovered Lime Crime and fell in love. Finally, here was a brand with all the fun of my forest style! I wished for Lime Crime makeup products and eventually my wish came true. I had enough money to purchase the two products I felt best expressed my enchanted forest world: Airborne Unicorn lipstick & Enchant Magic Dust! Now, I wear Airborne Unicorn when I set up my tent to peddle fortunes because I feel it attracts attention and trips the client out… The lipstick is instant enchantment! I love the deep forest green of Enchant and was inspired to create a makeup tutorial called "Wood Nymph," using leaves! I love to wear Lime Crime because it makes me feel surreal, fantastic, confident, and wonderful! If I had a fairy godmother to grant me everything I needed to get ready for the ball, I'd ask for the entire Candyfuture Collection!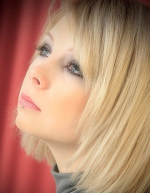 Flip K.
Lime Crime has helped me in a very special way. I have a few heroes who have impacted me like this, but Lime Crime impacted my life in a whole new way. I had previously been inspired to be my own person by my personal heroes Miyavi and Hige, both Japanese musicians whose music brings me daily GLEE, but Lime Crime helped me to be beautiful and helped save my life. I've always been insecure about my looks. When I was younger I became anorexic because of this lack of faith in my own looks and body. One day I stumbled across Doe's blogazine. I read everything, from the first post to the most recent, and my eyes were opened. Through Lime Crime and Doe's blogging about everything and anything, I found a way to express myself, dress in a way I felt amazing, and I finally felt beautiful. Lime Crime is one of the reasons I am now at a healthy weight. It's one of the reasons I didn't whither away. Thank you Doe… and thank you Lime Crime… from the very bottom of my glittering pink heart!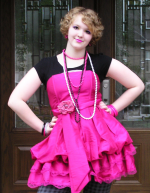 Butterfly Queen
I am a huge fashionista! I absolutely love dressing up in the brightest, blingy-est, most adorable outfits that I can get my hands on. However, I have always felt alone in my love for color, resulting in hiding behind barely pigmented make-up, so at least behind the hot pink shirt I was somewhat normal. After discovering Lime Crime I have embraced my favourite colors into my make-up as well. I don't own any Lime Crime make-up, save for one tube of No She Didn't lipstick. I can't afford to buy Lime Crime at the moment. But that doesn't stop me from pretending! Lime Crime has helped me find myself, and I love it! Thank you!

Toxikandy
I've always loved Doe Deere, way back when she was still called Xenia, posting tutorials on MySpace. I've always loved makeup but never really got out of my safe zone (bright pink eye shadow, thick eye liner) but when I saw Lime Crime come out, I had to buy some and the second I received it, it opened a whole new world to me… one I never knew existed! So now I'm currently a freelance makeup artist, going to beauty school, and making tutorials on YouTube.com – helping the world crawl out of its safe zone. Thank you Lime Crime!

Kathryn D. & her team

Hello! I'm Kathryn and I use Lime Crime as show make-up for my junior color guard. I had originally picked the brand for the bright, intense colors you'll be able to see from the bleachers (we perform on mats in gyms). But I fell in love with the staying power. We have been at competitions in make-up for 12+ hours before and the make-up will be as intensely bright as when it was originally put on! Plus, my girls love the colors and will wear it long after we perform. I've also received compliments on the colors and get asked where I get the make-up from many other techs and instructors. The picture is of me with my junior guard girls around me wearing our show make-up! (I am pictured in the middle.)

Andrea F.
My name is Andrea and I work in a high school library in Melbourne, Australia. Since discovering Lime Crime, approximately one year ago, I have been wearing it on an almost daily basis. Before I became a librarian I considered being an 'artist,' but decided it wasn't the path for me. I have found that applying Magic Dusts is like being back in Year 12 painting class: I just LOVE playing with them, and seeing what I can come up with. Lime Crime make-up is so beautiful I often even find myself staring at the swatches on the webpage, daydreaming in admiration (true story!). Thanks to Lime Crime, my face has become my canvas and I am an artist once again! (That's me in Pompadour!)
Thank you, futurettes, for all of your hard work and support! We enjoyed all of your unique stories and hope we can continue to impact your lives in some way, whether it be big or small. Interested in becoming a futurette? Apply here.