Every weekend Mark and I grab our shopping totes (why waste plastic bags!) and go grocery shopping at a Russian supermarket in Bensonhurst. Their shelves are stocked with the most wondrous, GLEE-inducing things: food most have never seen and if they did, would never put in their mouths. Last time we went, I grabbed the camera and captured some of my favorites.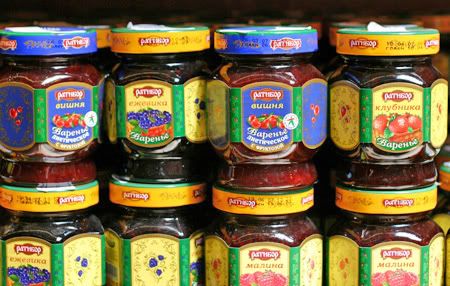 Fruit jams: cherry, strawberry, blackberry, raspberry
Babushkas love tea, and they drink it with fruit jam. Jam can be eaten with a spoon from a saucer – or straight out of the jar if you're me! – or spread on top of a piece of bread. Think peanut butter & jelly sandwich but with real butter and fruit jam.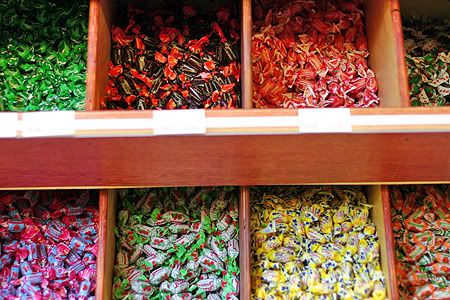 Bins of hard candy
Russian hard candy comes in an individual wrapper and sometimes contains a fruity center. Unlike American hard candy, all flavors must be natural – blueberry, orange, strawberry… prune.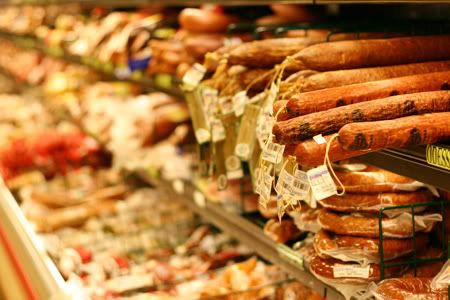 Kielbasa
Unless you couldn't tell, Russians are obsessed with kielbasa and consume it in large quantities. They'll put it in anything: salad, sandwiches, even some soups. This is a traditional Russian sandwich during the Soviet times: whole wheat bread, butter, cheese and a few circles of kielbasa:
I remember eating a sandwich just like this every morning for breakfast (with sweet tea!), before heading off to school. Now the mere sight of kielbasa sort of terrifies me, haha.

Veal brain
Speaking of terrifying things – veal brain, anyone? I have no idea how it's cooked or who eats it – but it sure is affordable. $3.42 and it's all yours. Any takers?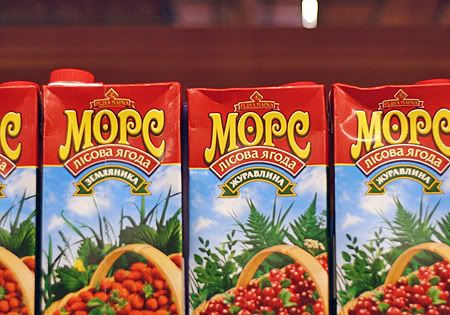 Whortleberry juice
Whortleberry is an Eastern-European cranberry but juicier, sourer, and more flavorful. I like to mix it with Seltzer water and serve to guests in a tall glass with a mint leaf. Fabulous!

Boxed chocolates 'Alyonka' in retro packaging. Nostalgic, but the candy is probably not very good.

Truffles, truffles, and more truffles
I love chocolate and have to say European chocolate is heaps better than American. It's richer, thicker, and you can actually find good stuff for fairly cheap. For instance, a box of excellent truffles cost me under $4!

'Zhigulyovskoe' Beer
I'm a big beer connoisseur and had been drinking it since I was 7 years old. My grandparents would open up a bottle after banya (a Russian sauna) and let me have as much as I liked. Perhaps that's why I never had any interest in alcohol or getting smashed; the only appreciation I have is for the taste. My favorite kind of beer is dark, malty, with higher alcohol content (7-8%) – I think it's technically called lager. Nazdrovje!

Fruit cake
Russian cakes are elaborate, similar to Italian. Sadly they didn't have the super-crazy ones the day I had the camera, but you can still see how much fruit they piled on top! Again, the flavors are natural and pastries tend to be heavy on cream (icing is rarely used).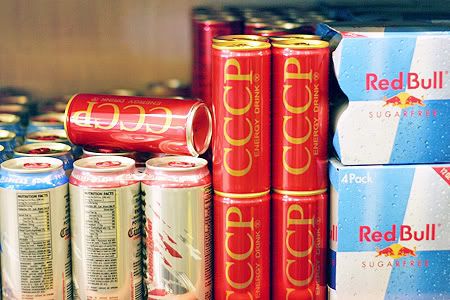 CCCP Energy Drink
This is a new product clearly trying to appeal to the Soviet nostalgia craze that broke out after the fall of the Iron Curtain. 'CCCP' stands for USSR, in Cyrillic characters. I hear it's pretty much like Red Bull, except if you don't recycle, they send you off to Siberia. I kid, I kid! …or do I?!
As I was taking pictures, security guard approached me and said no pictures were allowed. I had to go up to the manager's office and explain I'm only taking them for my blog. "Blog? Vee don't know of such publication" he replied suspiciously. Russians can be distrustful when it comes to letting strangers in – even if it's just taking pictures of their store. :)
More Russian food: KrisAtomic.
Deerlings: what are the weirdest, wackiest foods you've ever had?