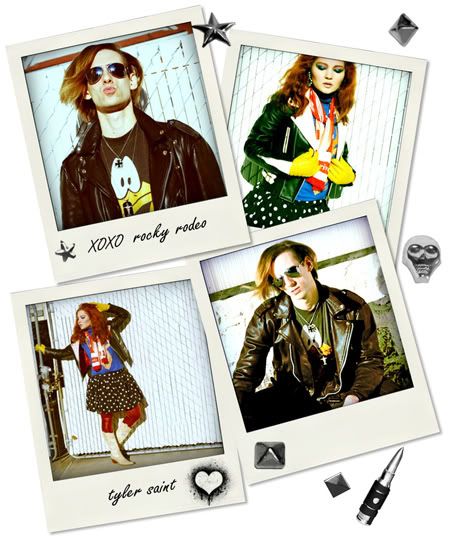 size does matter
Meet Tyler Saint: my 80s alterego. The Poison-worshipping, hair-teasing, questionable-fashion-choice-making persona with no boundaries! Mark is Rocky Rodeo: the super-hot, arrogant bad-boy lead guitarist that gets all the groupies!
Here's your chance to win a special prize from me, full of 80s-related goodies, including some of the brightest Lime Crime shadows!
To enter:
1. Comment with a link to a photo of yourself decked out in 80s glam
2. Submit your Rock Star Name! (follow the guidelines below)
Note: you can submit as a boy or girl, regardless of your gender!
Your idols: Stevie Nicks, Cyndi Lauper, Pat Benatar, Bonnie Tyler, Patty Smyth, Lita Ford, Siouxsie Sioux, Joan Jett.
You wear: teased and/or permed hair, very bushy eyebrows, eyeshadow up to the brow, frosted lipstick, glitter, lots of chains & bracelets, tight pleather miniskirts and leather underwear.
Your name is: a boy's name or an unusual name (bonus points if it's misspelled)! Good examples: Billie, Charlie, Terry.
+
A realistic-sounding last name OR something completely over-the-top & ridiculous!
Yours idols: C.C. Deville, Nikki Six, Axl Rose, Izzy Stradlin, Tracii Guns, Rikki Rockett, Blackie Lawless, Lizzie Grey, Stacee Jaxx, Ozzy Osbourne, Zakk Wylde, Sebastian Bach.
You wear: zippered leather jackets, tight leather pants (codpiece optional!) OR acid-washed jeans OR spandex leggings, metal bracelets (at least 15 on each hand), lurex scarf, teased hair, eyeliner, and lipstick on occasion.
Your name is: a boys OR girls name ending in -y or -ie (bonus if it's misspelled).
+
A real word-based last name (extra points if it has sexual implications or that of danger!).

Winner will be announced on Friday, January 16th. Let's glam it up!

Here's some Poison to get you in the mood!